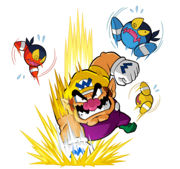 "Eat this, Delightful Loser Koopas, EEEEEEEEEEEEEYAAAAAAAAAAAAAHHH!!!!!"
--Numbuh 4 1/2 as he utilizes his Earthshake Punch
Wario
Wallabee Beatles
is an all-rounder and powerful operative and in the Kids Next Door Force introduction, he utilizes his Earthshake Punch to pull the number 4 ½ behind him. The number 4 ½ is made of stone in the introduction. He can also make The Delightful Koopalings pay for the damage they cause. He also teams up with
Wallabee
to deal double or even triple the damage back. Numbuh 4 1/2 is described as the team's bravest, toughest, strongest, fiercest, wildest, most adventurous, dangerous, courageous, and possibly the best fighter in
Sector V
. He is also the most impulsive, brash, hot-headed, arrogant, ignorant, and harshest of the team.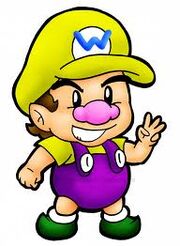 His wisp power
is used when on the diggable ground. He is close friends with
Numbuh 2 1/2
and has a crush on his teammate,
Numbuh 3 1/2
. He will also follow in
Wallabee
's footsteps. He is obsessed with money, gold and even
his favorite dragon
. He and
Diego
will have to run
Numbuh 2's Circus
. He's also strong willed like
Kirby
. He can also be 999,999, 999,999, 999,999, 999,999, 999,999, 999,999, 999,999, 999,999, 999,999, 999,999, 999,999, 999,999, 999,999, 999,999, 999,999, 999,999, 999,999, 999,999, 999,999, 999,999 times as strong. "I'm gonna wreck it!" is what he always says. It's his favorite quote. His favorite quote comes from
Ralph
. Along with his earth element, he breathes out dirt clouds and pieces of rock. Wario 
is loyal to Nigel, Mario and the team, though he would never admit this if ever asked. Proud and arrogant, Wario is living proof that no team is complete without a mini Vegeta.