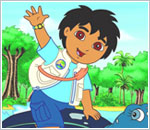 "Kids Next Door Force operative Numbuh 2 1/2! 2x4 Technology Officer of Sector V!"

--Numbuh 2 1/2

Diego Hoagie P. Gilligan Marquez Jr. is an officer of the 2X4 Technology same as Numbuh 2 but he not just builds them but he upgrades them and he sends them to each operative and his building weapons instinct was extremely terrific. He also wears the same suit as Inspector Gadget but he needs to wear it to acquire Numbuh 2's help. Diego can also make his cousin overjoyed by giving her the weapon. Numbuh 2 1/2 is in charge of building most of the 2x4 Technology in his team, he even builds Sector V's Treehouse. He also plans to wreck the children of Bowser with his own weapons. He can also repair the damage done. Diego has peach-brown skin and brown eyes. He also has brown hair and wears a blue shirt and a tan-and-orange vest. He has a heart of gold and if he tries to fight the childern of Bowser, he'll be hurt and his cousin will take them all on. He also has a belt of tools with him just in case. Being Sector V's mechanical genius, Numbuh 2 1/2 is described as one of KNDF smartest operatives, but is jokingly called a "nerd" by his teammate Roll as he frequently plays with Yipper Cards with Wario and watches Doctor Time Space and the Continuums with the other kids of the KNDF. He can be seen in his robotic friend's arm cannon and he is fired from it, triggering his wisp power. He is the 2x4 Technology Officer of Kids Next Door Force Sector V. He is close friends with Numbuh 1 1/2 and Numbuh 4 1/2. Hoagie's footsteps will be followed by him. Humble and peaceful, Diego is the most loyal to Numbuh One and a half and obeys commands with a salute. Though he may be the most clumsy out of the ten, he makes up for it with his friendly attitude. 
Ad blocker interference detected!
Wikia is a free-to-use site that makes money from advertising. We have a modified experience for viewers using ad blockers

Wikia is not accessible if you've made further modifications. Remove the custom ad blocker rule(s) and the page will load as expected.