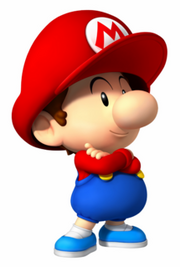 "Baby Mario's the name; kicking adult tushie is my game."
Baby Mario answering Kuki's question
Baby Mario, Numbuh 1 ½'s baby form is a member tidying up Kuki's room. His ears are always visible. He also has beady black eyes and his large trademark nose. Baby Mario has a thin layer of brown hair always covered by his trademark 'M' hat. Like most of the babies, his outfit eventually changed. He's one of the babies who's been recruited by Kuki herself. He always been loved by Kuki and Abigail. Mario himself first saw his tot form and fire roars from his head in joy. Baby Mario himself then gave his team of babies a blow from his BNDF whistle. The BNDF logo from the whistle Baby Mario has stand for the Babies Next Door Force. He always squeals when one of his feet are tickled from the bottom. A bubble is his tansportation. He always travels with the KNDF when in a bubble. Baby Wario rides in a bubble with him, along with Baby Dora, Numbuh 3 ½'s baby form, Baby Diego, Numbuh 2 ½'s baby form and Baby Roll, Numbuh 5 ½'s baby form along with Nigel, Hoagie, the adorable Kuki, Wallabee and Abigail as babies. Kuki's baby form is far more adorable than any other baby. He has his teddy bear to share with Kuki because Kuki adores stuffed animals and she always squeal happily. As a baby, Kuki herself realizes that she has the ability to crawl.